I have returned from the horror that is school to share something new with you! Did I mention I really love Korean dramas? They're all the rage in South Korea and frequently cast famous musicians in main parts. They show both the good and bad sides of Korean society. They make stories playful and romantic or so sad you want to die. There is a large and great range. But if you like K-dramas and haven't heard of Heirs, well, there might be something wrong with you. Heirs is the big show coming out of South Korea right now and here is ten reasons why you should jump on the bandwagon.
There is a warning that I do give some spoilers. Most are not too essential to the plot but if you don't want to read them, feel free to skip down to the next one.
10. It ends this week
This is good for you who aren't emotionally invested in this show in the moment (meaning you are not me, who is dreading this). Heirs was a little unique in that it aired two episodes a week and so the season finale is coming out on December 12. Why is that good for you? Well you don't have to worry about catching up or running out of episodes and having to wait! You just get to enjoy this amazing fabulouslessness.
9. The crappy portrayal of America (or the "It gets better, I swear")
The first four episodes of the show take place in America because the main character, Cha Eun Sang's, sister is living there as well as the leading man Kim Tan. Unfortunately, we are forced to see the sad reality that South Koreans think we Americans live. The episodes were actually filmed in Santa Monica, which I think is cool, but is filled with tanned skinned, blonde-haired people. They also lovingly promote that we all live at the beach, can surf, and really like drugs. Yes, it's horribly stereotypical. Some people were offended by this, but I found it more laughable. It was more like "Really Korea? That's what you think of us Californians? Oh, you poor, poor people." I'm sure some people actually wish they lived that life. I at least wish I lived at the beach.
8. It has hilarious cheesy soap opera moments
www.youtube.com/embed/MERZBWDiTbw
While most K-drama are pretty cliché and stereotypical, they're never so over the top as our favorite Days of Our Lives. What I find the best is that Heirs does and doesn't do that! The show is filled with plot bunnies of mistresses, illegitimate children, rich kids loving poor kids, and the like. Although I hate to say it, but some of Korean society actually is like that. But when you got to the episode where the wife came in and threw water on the mistress, it was really hard not to laugh at how bad it was. You feel sorry for the mistress, but you can't help but laughing and then feeling worse. Also you have the really lovely moment of getting to see the love triangles staring at each other for a minute straight. And every time Cha Eun Sang and Kim Tan look at each other, the most annoying song plays. It's all so laughable you can't help but love it. Luckily, the show has some really great other points that make all of this cheesiness worth it.
7. The star studded cast + cameos
Now, I'm going to drop names that could mean absolutely nothing to you but it's still worth mentioning. One of the reasons Heirs has so much attention and is one of the most watched K-drama is due to their cast. The leading man is played by Lee Minho, who is a heart throb in Korea. He's famous for playing Gu Jun Pyo in Boys Over Flowers (which I have seen him in and ABSOLUTELY HATED him!) as well as Lee Yun-Seong in City Hunter. For the leading female role is Park Shin-Hye, another critically acclaimed actress, who just celebrated her 10th anniversary as an actress while filming the show. She gained her fame from portraying Ko Mi-Nyeo and Ko Mi-Nam in You're Beautiful, Lee Kyu-Won in Heartstrings, and Ko Dok-Mi in Flower Boy Next Door, to mention a few. What's awesome about Park Shin-Hye is that she is an actress that speaks out against the control of South Korean culture and you can see it in the characters she plays, such as Cha Eun Sang in this show. Among others are Kang Min-Hyuk as Yoon Chan Young and Krystal as Lee Bo Na (I'll get to them in just a minute). They also have Choi Jin-Hyuk as Kim Won, Kim Tan's elder half brother, who won the Best Rookie Actor award earlier this year for his portrayal in this year's Gu Family Book. I honestly just can't press how amazing it is to have Lee Minho and Park Shin-Hye in a drama together! It's a big deal! But the other fun thing was those awesome cameos we got in one episode. Among them were KPop bands VIXX and BTOB, who are both up and coming popular bands from this year. Probably the most notable though was Kim Heechul of Super Junior fame playing himself in the show. It's his first drama appearance since getting discharged from his mandatory military service earlier this year.
6. The interesting side characters that you thought were pointless
In my opinion, this only applies to five characters in the show (there is a large cast I must add), but still it's always surprising when a character who you thought really wouldn't be that important ends up being way more interesting where you begin wondering when they'll show up so you can learn more. I'll discuss four of these five characters down below because they honestly really made the show for me in the beginning. But one who I think deserves to be mentioned is Kang Haneul's Lee Hyo-Shin. When he first shows up, he only serves as the student who is being tutored by Kim Won's secret girlfriend, essentially connecting her to the students that attend the school that is one of the main settings. He seemed sort of goofy and not very important. A flat and boring character that you could easily forget. Before I could remember his name because he wasn't that important, I called him "the pretty haired one" because I enjoyed his hair cut. Then in one episode, he suddenly blossomed into this fantastically interesting character. He has issues with his parents, who want him to become a lawyer like them instead of going to film school despite that he won an award in directing and runs his school's broadcast station. He is good friends with Lee Minho's Kim Tan and you find out from their interactions that he has dealt with suicide attempts and the very real pressure that Korean students can face. He purposefully skips a college interview and his mother uses her power to reschedule it and force him to go against his will. It shows how controlled some children can be in Korea. In one of the fights with his mother, he breaks down in tears and asks her what it will take for her to even ask him what has driven him to be so desperate. Instead of asking, she says they'll talk about it after he takes the national tests (similar to our SATs). I felt that he became very real and much more interesting, because this is one of the lives a Korean student could be living through everyday.
5. Kim Mi-Kyung as Park Hee-Nam
Now this lady deserves a flipping award. In most dramas the parents of the main characters are absolutely horrible, widowed and ridiculously pathetic, or dead. In this drama, we have the widowed mother of Cha Eun Sang (Park Shin-Hye) but she is neither pathetic nor horrible. She is handicapped in that she cannot speak. She only uses sign language and a notepad to write on to communicate with her boss. She works as a maid in the Kim household (plot twist!) and must deal with Kim Tan's mistress of a mother on a daily basis. What's wonderful is how strong she is. You find her endearing because she works hard for her children and puts up with a lot of crap. I found her amazing because she could be a very weak character: a woman who works as a maid with two children and no husband with a handicap which is looked down upon. Instead she does her best and makes money for her family. She's such an endearing character that I found every time someone was horrible to her I either wanted to cry or got really angry. Her writing on the notepad is dubbed over with a voice, but she hasn't uttered a word an entire time in the show. Her performance is so well done even lacking words and it's just awesome. Seriously. She's just awesome.
4. Yoon Chan Young and Lee Bo Na
Now these are two of the lovely star studded cast mates, as well as those background characters who ended up being as important as the main characters to me. Yoon Chan Young is the third cast member you meet in the drama, portrayed by Korean rock band CNBlue's Kang Min-Hyuk. He immediately drew me in with his good looks, but then they added in that he's the really smart, really sweet and sensitive nice guy childhood friend of the main character. What makes it better is that he has a super protective, super jealous/insecure girlfriend who actually is really likeable and ends up becoming the main character's ally. That is Lee Bo Na, portrayed by popular girl group f(x)'s Krystal. The first time we see Lee Bo Na, she practically hates Cha Eun Sang, telling her to never talk to Chan Young or she will get her. What's cute is that Chan Young finds that adorable. He at one point purposefully takes a picture of him and Cha Eun Sang and posts it on his social media so Bo Na sees and immediately calls him. They do go through a rough patch, but it gets fixed and you see them being cute with each other. They're the laid back couple in the show that only has drama for maybe two episodes max. Whenever they're on screen, it's a nice change of pace. What I probably like most is they make a cute couple and play it well.
3. The adult relationships
That title sounds so bad…but honestly! In K-dramas all of the couples are usually awkward teenagers who don't end up sharing a kiss until half way through the show's run. What's really cool about Heirs is not only the kids are in love. You have the very complex relationship between Choi Jin-Hyuk's Kim Won and Lim Ju-Eun's Jeon Hyun-Joo. When you find out they're an item and how desperately the two are in love with each other but are too stubborn to just say it and act difficult with one another, you just become invested. Then throw in that Won is rich and Hyun-Joo is an orphan and you're rooting for them! They're honestly the couple I hope ends up together the most. But the one I was the most shocked by was the pair between Yoon Chan Young's father, Yoon Jae-Ho, played by Choi Won-Young, and the completely horrid Rachel's mother, Esther Lee, played by Park Jun-Keum. We see them as two divorced and/or widowed parents (they never clarify Yoon Jae-Ho's reason for being a single dad) who used to be in a relationship together. The two still have lingering feelings for one another, more so probably on Yoon's side from the dialogue he is given. They have a rocky relationship and are forced to see one another once again since their companies are working together. Esther is engaged to other main character Choi Young Do's father, Choi Dong-Wook, played by Choi Jinho, but knows that he's not the best man. She passively pursues Yoon after the biggest bombshell is dropped early in the season. The two are the first to kiss on the show! And it's a pretty intense and forbidden kiss. It's so odd to see the adults have major parts that actually involve their own romances. I was in utter shock and then rooting for them to get together the entire time. Even to now, I have no idea if they will get together or not.
2. Kim Woo-bin as Choi Young Do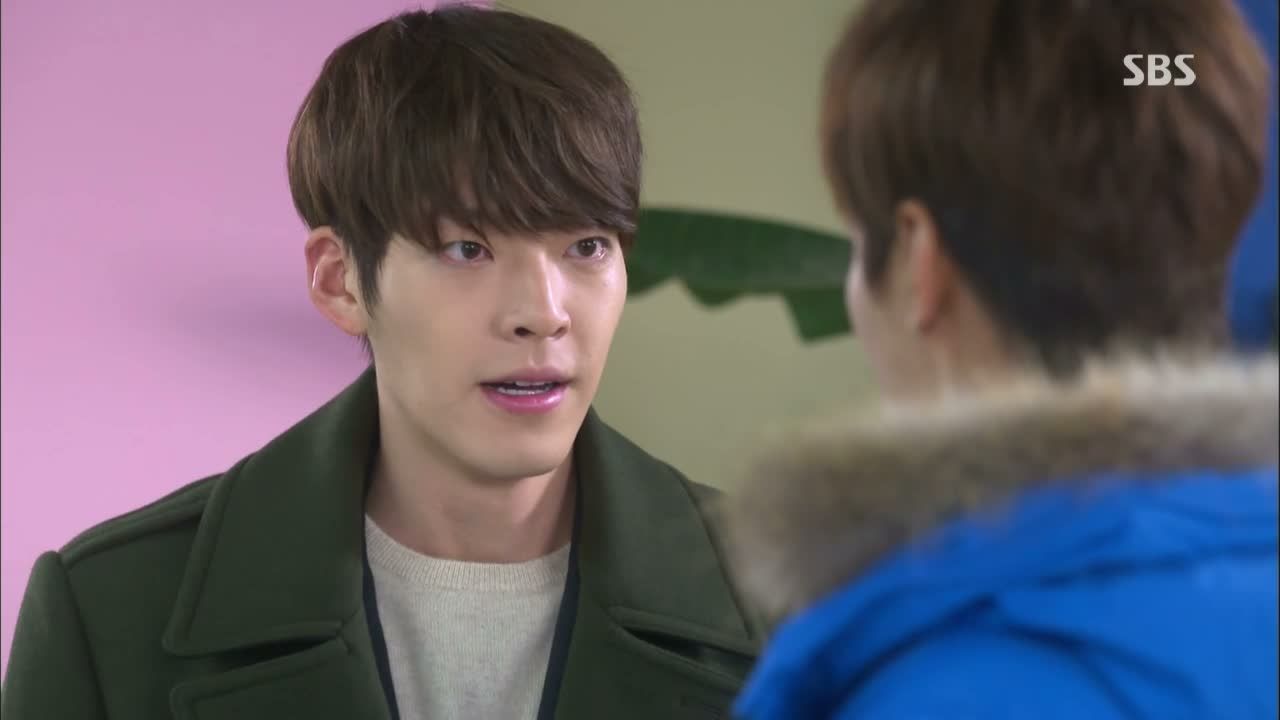 If anyone is a show stealer, it is Kim Woo-bin in his performance as bad boy and the other piece of the love triangle, Choi Young Do. Kim is known for being a model in Korea and this is his first major drama role. He is by Korean standards very handsome. I honestly couldn't stand the way he looked in the beginning of the show. It's probably personal preference but if Kim Woo-bin had worn his hair down the entire show, I would have gotten more invested in his character faster. (Yes, I am easily drawn in by pretty faces in dramas. Don't get me started on that.) But why Kim Woo-bin deserves this spot is the fact that he plays Choi Young Do so well. The first time you see him, he is a slightly unattractive, cocky, and just utter and complete bully. He bullies people in what the school calls the "Social Care Group" because they are not rich heirs. You just hate him. And of course, he ends up becoming that lovely wedge in the love triangle that gets in between Cha Eun Sang and Kim Tan. What's great though is that he really does change. You find out that he kind of has reasons to be mean but not all of them are justified. They don't glorify all of his reasons for him being horrible. The show does do a good job though in making you understand why he has a hard time being nice and laying on the "woe is me" background that you just can't hate. What I loved about Choi Young Do was in the end, he's become a better person and become an ally to Kim Tan. Kim Woo-bin plays Choi Young Do as a believable character. He has hardships and he's kind of a douche, but you end up seeing the humanity in him. It's impressive and admirable. I absolutely hated his character until these last few episodes but I would definitely watch anything he stars in because he does so phenomenally.
1. Kim Tan does not give two shits
I'm sorry for a less than eloquent title, but seriously. I love Lee Minho's Kim Tan. He isn't my favorite character but he definitely deserves an award for being the little envelope pusher that he is. Korea is a very traditional, conservative, and hierarchical society, much like other Asian countries. But Korea is really big about patriarchy, not having illegitimate children, and if you're rich you marry the rich. The show is basically all about these themes and it's how the characters lives are mandated. Kim Tan and Cha Eun Sang cannot be together because Kim Tan is rich and an illegitimate child, so he must marry someone rich to still hold his status, while Cha Eun Sang is poor, her mother being a maid and she working many part time jobs. But then we have Kim Tan, who pushes the letter to the max. And all you can do is applaud him. His father has him engaged to Rachel Yoo so he can be made legitimate if he were ever revealed, but he has no interest in her. He loves Cha Eun Sang for who she is and could care less about where she comes from. He literally throws almost his whole life away for her because he wants to be with her. He yells at his father and says some of the best things I've ever heard in a drama. He asks how it is his fault that he is an illegitimate child, how his father has no right to dictate his life when he won't even give a true care about him, how it's his father who should be shameful for having a mistress he won't let out of the house, and how he doesn't need insurance to live his life. All he asks for is to live how he wants. In a country such as South Korea, where you basically do as you're told, this is a big deal. I love that they wrote his character to speak against these social norms, especially coming from a country where they usually cover their ears and pretend the problem they want to talk about doesn't exist. Kim Tan does not care about the consequences because he wants to live and I loved that he even said that should he make a mistake, he deserves to deal with the consequences that should follow.
So, those are my ten reasons for watching this K-drama. I hope it convinced you to at least go check it out. I do admit the first four episodes are a little slow, but it really does pick up as I mentioned above! It's a great show and I'm sad to see it ending this week. You can watch it for free on Drama Fever, which is a legitimate streaming site. Let me know your thoughts on Heirs!