News
News and Updates From Around The Web
Writer Dan Wickline (30 Days of Night, SHADOWHAWK) and artist Phillip Sevy (Tomb Raider, THE TITHE) team up for THE FREEZE, an all-new science fiction series coming this December from Image/Top Cow.
The entire human population is frozen by a mysterious global event…all except Ray, and only he has the power to unfreeze them. Now—with the fate of the world in his hands—he must figure out what is going on, how to set things right again, and answer the question: does everyone deserve to be saved?
"THE FREEZE is a post-apocalyptic survival story where the biggest danger is man's true nature," said Wickline. "We strip the world down to one decent person and then give him the power to rebuild society from scratch, not knowing if those he awakens will benefit the new world or indulge their darkest inclinations. It's an intriguing concept to explore as a writer, and Phillip is just hitting it out of the park with his art."
"Great sci-fi is about taking a cool concept and using it as a vehicle to examine the choices,
attitudes, thoughts, and prejudices we, as people, have," added Sevy. "The premise and its execution in THE FREEZE is what drew me to the project and keeps me fueled as I work on it. I can't wait for people to read it—Dan's written a great book!"
Advance praise for THE FREEZE:
"Wow! It so rare to find someone who can do the end of the world in a way we have not seen. But Dan Wickline and Phillip Sevy have pulled it off with their wicked apocalyptic game of freeze tag that has me wanting more…a lot more! Wickline's usual sense of character is on full display while Sevy's art is crisp and cinematic and serves the conflict beautifully. This is fantastic, intriguing stuff!"
—Adam Marcus (director of Jason Goes to Hell: The Final Friday)
"It's a great concept. I smell a movie adaptation." —Dan Brereton (NOCTURNALS)
"THE FREEZE is kind of like… what if Left Behind was good, and less religious? A
fantastically fresh concept that begs to be explored, expertly rendered with art that's surprisingly vibrant and dynamic for a book about people that literally can't move."
—Ryan Cady (INFINITE DARK)
Andy Diggle (THIEF OF THIEVES, Losers) and Alessandro Vitti (Secret Warriors) team up to bring Robert Kirkman and Marc Silvestri's sci-fi/action series HARDCORE to life—coming this December from Image/Skybound. The series will feature cover art by award-winning artist Dan Panosian (SLOTS, Conan/Red Sonja).
"Robert Kirkman and Marc Silvestri's action-packed concept immediately appealed to me," said Diggle. "It's been a pleasure to write and expand upon this idea, and I can't wait for comic book readers to see where HARDCORE goes."
Imagine being able to take over the body of anyone on Earth in order to track down a rogue nuke or assassinate a dictator. Sound crazy? Not for Agent Drake and the Hardcore Program. They can turn anyone—your neighbor, your co-worker, your spouse—into a human drone to get to targets that normal soldiers can't.
Drake is the best soldier Hardcore has to offer. But when the Program itself gets hijacked, he finds himself stranded in a body—with only 72 hours to neutralize the threat. But who can he trust when his enemy can change their appearance as easily as the rest of us changes a shirt?
"I'm very happy and honored to have worked on HARDCORE," added Vitti. "Seeing my name next to Andy Diggle for this project is fantastic. I'm thankful to Jon Moisan and his colleagues at Skybound, and Image, for giving me this opportunity. I can't wait to share this project with readers!"
Square Enix, Eidos Montreal, and Crystal Dynamics have premiered the launch trailer for "Shadow of the Tomb Raider" which finally scores a release this Friday on Xbox One, PlayStation 4, and PC.
Reviews have gone up with the game's Metacritic score hovering at the 77-83 mark depending upon platform, compared to the 85-86 of 2013's reboot and the 86-88 of the second game "Rise of the Tomb Raider".
The third and final title in the reboot trilogy, Camilla Luddington makes her return as Lara Croft in this look at the defining moment as she becomes the Tomb Raider. Lara must master a deadly jungle, overcome terrifying tombs, and persevere through her darkest hour.
As she races to save the world from a Maya apocalypse, Lara will ultimately be forged into the Tomb Raider she is destined to be.
Disney Channel has premiered the first-look trailer for "Star Wars: Resistance," the new animated series set within the "Star Wars" universe. In addition, a premiere date has been announced with the show to launch on Sunday October 7th.
Set before the events of 'The Force Awakens,' the series follows Kazuda 'Kaz' Xiono (Christopher Sean), a young pilot recruited by the Resistance for a top-secret mission to spy on the growing threat of the First Order.
He's appointed to the Colossus, a massive aircraft re-fueling platform on an outer-rim water planet that's home to colorful new aliens, droids and creatures. While undercover, Kaz works as a mechanic and lives with Poe Dameron's old friend Yeager (Scott Lawrence), a veteran pilot who operates a starship repair shop run by his crew: Tam (Suzie McGrath), Neeku (Josh Brener) and their old battered astromech droid, Bucket.
Oscar Isaac, Donald Faison, Jim Rash, Bobby Moynihan, Gwendoline Christie, Myrna Velasco and Rachel Butera lend their voices to the series created by Lucasfilm Animation veteran Dave Filoni and executive produced by Athena Portillo, Justin Ridge and Brandon Auman.
Coming Soon: Savage World
Welcome to your worst nightmares.
Everyone's favorite Horror Villains – Freddy Krueger from
'Nightmare on Elm Street', Jason Voorhees from 'Friday the 13th',
Leatherface from 'The Texas Chainsaw Massacre',
Michael Myers from 'Halloween' and Pinnhead from
'Hellraiser' – are ready to haunt your dreams and chase you down.
Freddy, Jason, Leatherface, Michael Myers, and
Hellriaser are heavily armed and
entirely fitting additions to the Funko Savage World line.

Coming in September!
What do you think?
For years, Dark Horse Comics has been publishing its ongoing comic series based on the "Buffy the Vampire Slayer" TV series with events in the books taking place in the years after the events of the series.
Now, in a recent interview with CBR, series creator and comics writer Joss Whedon confirmed that the upcoming fourth and final issue of 'Buffy Season Twelve: The Reckoning' will be the end of the Dark Horse Buffy era and then the rights to the series revert to Fox. He says:
"We want to do something more with Dark Horse right now – especially because Fox is taking the Buffy license and the Firefly license back. And Dark Horse has shepherded these licenses for decades now…

I heard about all of this after the fact. It's like Disney taking Star Wars over to Marvel. All the sudden we realize this is happening. So I'm writing this from a position that will leave everybody in a position where you feel some closure, but it's definitely not, 'Oh, I now I won't ever want to read about them again.'

Similar to the show, we're not going to close it all off in the sense of 'Everybody's dead!'. We wanted to give the Dark Horse era some closure. What they've done over the years with Scott Allie and Sierra Hahn, and everyone there has put their souls into this. The artists like Georges [Jeanty] and everyone were such a perfect match. It's been a great combination, so it couldn't just end."
The last issue of "Buffy the Vampire Slayer: Season Twelve" hits stores September 19th.
Eisner Award-winning writer John Layman (CHEW, LEVIATHAN) and artist Afu Chan (Immortal Iron Fists, Spera) team up for OUTER DARKNESS, an all-new sci-fi/horror series coming this November from Image/Skybound Entertainment.
"Thanks to Afu Chan and Skybound, we've succeeded in making OUTER DARKNESS as perfect and beautiful as I'd envisioned it to be since finishing Chew," said Layman. "I'm so unbelievably excited that OUTER DARKNESS is being announced to the world. I'm absolutely in love with this book."
In OUTER DARKNESS, humankind has successfully colonized the galaxy. But during our interstellar travels, we discovered a terrifying secret out in the vast reaches of space…
Enter Captain Joshua Rigg and the crew of the starship Charon, who will encounter demonic possessions, hauntings, and cosmic horror as they embark on a desperate rescue mission into the Outer Darkness of space—where everything wants to kill them.
"It was scary, in good way, working with John Layman and Skybound, especially on a comic filled with monsters and in space where nobody can hear you," said Chan. "I am always on the edge of my seat while drawing these pages, and I can't wait for people to experience the ride when reading OUTER DARKNESS. It is the best work I've done yet."
OUTER DARKNESS #1 will hit stores on Wednesday, November 7th.
Source: Space is profoundly terrifying in John Layman and Afu Chan's OUTER DARKNESS
Earth to Gordon Shumway: Book an appointment with your groomer.
Warner Bros. is in the early stages of developing a reboot of the beloved '80s alien sitcom ALF, TVLine has learned exclusively. The original series — which centered on a hairy, sarcastic extraterrestrial who is taken in by a middle-class family — ran for four seasons NBC, with the series finale airing March 24, 1990. All told, 102 episodes were produced.
Netflix
 officially greenlit the series 
Locke & Key
, based on the popular IDW Publishing series, for a ten-episode season.
Co-creator and illustrator Gabriel Rodriguez shared the news on his Twitter account, along with the show's official logo on Wednesday.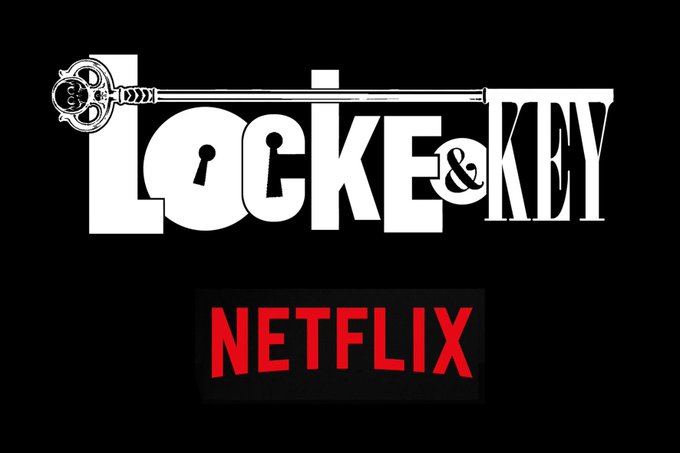 Locke & Key centers around three siblings who move to their ancestral home in Massachusetts after their father is brutally murdered. There, they discover magical keys that give them a wide array of powers and abilities. On their trail is a demon who also wants the keys at any cost.
Writer/creator Joe Hill is the son of Stephen King and famous for his novels Heart-Shaped Box, The Fireman and Horns, which was adapted into a directed by Alex Aja and starring Daniel Radcliffe and Juno Temple.
The streaming giant, and producer of hits GLOW and Stranger Things, announced in a press release Locke & Key will be developed and executive produced by Carlton Cuse, famous for shows such as Nash Bridges and Black Sash, and his company Genre Arts, along with Meredith Averill at Genre, David Ozer and Ted Adams from IDW, and series creator and writer Joe Hill.
Source: Locke & Key TV Series Officially Picked Up by Netflix | CBR
Warner Bros. Home Entertainment has revealed details about the long-awaited "Batman: The Animated Series" complete Blu-ray box-set.
The disc set will include all eighty-five episodes of the highly acclaimed and Emmy-winning series along with the twenty-four episodes of "The New Batman Adventures" and the 'Mask of the Phantasm' and 'Sub-Zero' movies. The set will consist of new remasters of all episodes and the movies, a new hour-long featurette, audio commentaries, three Funko pops, and a deluxe art book.
The set will retail for $112.99 and will be available on Blu-ray on October 16th. Check out the cover art for the set below.
Source: Blu-ray.com