Netflix
 officially greenlit the series 
Locke & Key
, based on the popular IDW Publishing series, for a ten-episode season.
Co-creator and illustrator Gabriel Rodriguez shared the news on his Twitter account, along with the show's official logo on Wednesday.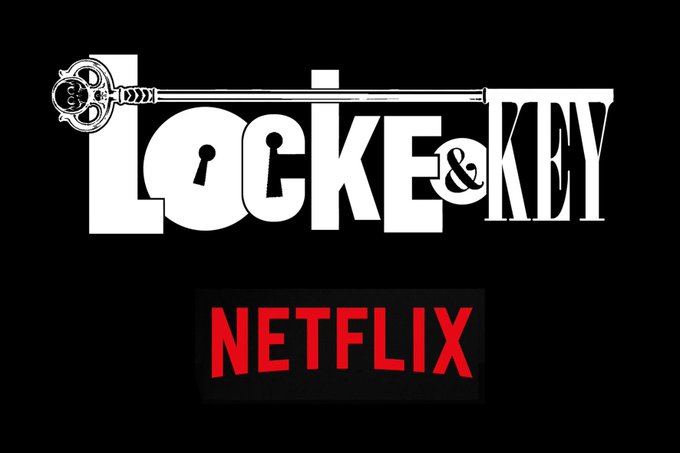 Locke & Key centers around three siblings who move to their ancestral home in Massachusetts after their father is brutally murdered. There, they discover magical keys that give them a wide array of powers and abilities. On their trail is a demon who also wants the keys at any cost.
Writer/creator Joe Hill is the son of Stephen King and famous for his novels Heart-Shaped Box, The Fireman and Horns, which was adapted into a directed by Alex Aja and starring Daniel Radcliffe and Juno Temple.
The streaming giant, and producer of hits GLOW and Stranger Things, announced in a press release Locke & Key will be developed and executive produced by Carlton Cuse, famous for shows such as Nash Bridges and Black Sash, and his company Genre Arts, along with Meredith Averill at Genre, David Ozer and Ted Adams from IDW, and series creator and writer Joe Hill.
Source: Locke & Key TV Series Officially Picked Up by Netflix | CBR
Warner Bros. Home Entertainment has revealed details about the long-awaited "Batman: The Animated Series" complete Blu-ray box-set.
The disc set will include all eighty-five episodes of the highly acclaimed and Emmy-winning series along with the twenty-four episodes of "The New Batman Adventures" and the 'Mask of the Phantasm' and 'Sub-Zero' movies. The set will consist of new remasters of all episodes and the movies, a new hour-long featurette, audio commentaries, three Funko pops, and a deluxe art book.
The set will retail for $112.99 and will be available on Blu-ray on October 16th. Check out the cover art for the set below.
Source: Blu-ray.com
On the road to 200, join AJ as he welcomes a special guest to help him review Ant-Man and the Wasp as well as Skyscraper.
Then sit back and listen to them geek out over news, books, and old times!!!
Episode #198
[ 54:49 ]
Play Now
|
Play in Popup
|
Download
Diane Lane
(Unfaithful, Under the Tuscan Sun)
 is set to star in 
FX
's 
Y
 pilot, its long-gestating drama based on the acclaimed post-apocalyptic science fiction DC comic book series
 Y: The Last Man.
Barry Keoghan
 (
Dunkirk, The Killing of a Sacred Deer
),
 Imogen Poots
(Green Room, Frank & Lola
) 
Lashana Lynch
(Captain Marvel, Bulletproof),
Juliana Canfield
 (Succession)
 and 
Marin Ireland
(Sneaky Pete, Hell or High Water)
 round out the stellar ensemble cast.
#WeBelieve in creator-owned panels, signings,
& con exclusive variants
Image Comics is pleased to return to San Diego this year for San Diego Comic-Con on Wednesday, July 18th through Sunday, July 22nd. Please note: updates to the schedule may appear online during the show. Please refer to the www.imagecomics.com post for the most up-to-date information.
COLLECTED EDITION CONVENTION EXCLUSIVES (sold at IMAGE BOOTH – #2729):
ICE CREAM MAN, VOL. 1: RAINBOW SPRINKLES hardcover by W. Maxwell Prince & Martin Morazzo, cover by Morazzo, $35 +tax
VS, VOL. 1 hardcover by Iván Brandon & Esad Ribić, cover by Ribić, $35 +tax
LIMITED* SINGLE ISSUE CONVENTION EXCLUSIVES (sold at IMAGE BOOTH – #2729):
* Quantities will be limited by customer and per day on a first come, first served basis. Please ask at the Image booth about availability.  
IMAGE FIRSTS DEADLY CLASS #1 by Rick Remender & Wes Craig, featuring a SYFY cast photo cover, FREE
FARMHAND #1 by Rob Guillory, cover by Guillory, $10 +tax
UNNATURAL #1 by Mirka Andolfo, cover by Andolfo, $10 +tax
SINGLE ISSUE CONVENTION EXCLUSIVES (sold at SKYBOUND side of booth – #2729):
WALKING DEAD #181 by Robert Kirkman & Charlie Adlard, cover by Charlie Adlard & Dave McCaig, $10
REDNECK #13 by Donny Cates & Lisandro Estherren, cover by Geoff Shaw & Dee Cunniffe, $10
SINGLE ISSUE CONVENTION EXCLUSIVES (sold at TOP COW booth #2629):
INFINITE DARK/THE FREEZE FLIP BOOK by Ryan Cady & Andrea Mutti, covers by Phil Sevy (THE FREEZE) and Andrea Mutti (INFINITE DARK), FREE with a Top Cow booth purchase or by attending a Top Cow panel
APHRODITE V #1 by Bryan Hill & Jeff Spokes, cover by Natali Sanders (Limited to 1,000), $10.00
CONVENTION EXCLUSIVE MERCHANDISE (sold at IMAGE BOOTH – #2729):
DEADLY CLASS T-shirt, $24.99 +tax
DEADLY CLASS enamel lapel pin, $10 +tax
CONVENTION EXCLUSIVE MERCHANDISE (sold at TOP COW booth #2629):
WITCHBLADE enamel lapel pin, $10
SUNSTONE enamel lapel pins, $10
SIGNINGS AT THE IMAGE COMICS BOOTH (#2729)
This October, Eisner-nominated writer/artist Daniel Warren Johnson (EXTREMITY, Space-Mullet) will launch an all-new head-banging, face-melting adventure from Image/Skybound Entertainment: MURDER FALCON.
The world is under attack. Monsters have invaded our streets and our homes, and there's only one thing that can stop them: METAL.
"Music is something that brings me a lot of joy, and it was my goal to translate that into images, thus bringing MURDER FALCON into the world," said Johnson. "It's a super combo of all the things I love, and I'm so excited to share it with you all."
Jake's life is falling apart: no band, no girl, no future…until he meets Murder Falcon, a legendary monster-killer sent from The Heavy to destroy all evil. But he can't do it alone—he needs Jake by his side, shredding up a storm. Now, with every chord Jake plays on his guitar, the power of metal fuels Murder Falcon into all-out kung fu fury on those that seek to conquer Earth.
Better watch out, monsters—METAL WILL DESTROY ALL EVIL!
MURDER FALCON #1 will launch from Image/Skybound Entertainment on Wednesday, October 10th.
Even before hitting shelves this August, the forthcoming CROWDED by Eisner-nominated writer Christopher Sebela (Heartthrob, We(l)come Back, Harley Quinn), Ro Stein and Ted Brandt (Captain Marvel, Raven: The Pirate Princess), Triona Farrell (Runaways, Mech Cadet Yu), and Cardinal Rae (BINGO LOVE, ROSE) is stirring up buzz with The Hollywood Reporter dropping the news yesterday that Rebel Wilson has optioned the film rights to the series with the goal of starring in and producing the movie adaptation. Wilson will develop the project and produce it via her Camp Sugar production banner. Also producing is Oni Entertainment.
First announced at the prestigious Image Expo in February, CROWDED explores the seedy implications of today's technology with the gut-wrenching resonance of a Black Mirror episode. In CROWDED, the world runs on an economy of job shares and apps, including Reapr: a crowdfunding platform to fund assassinations. Charlie Ellison leads a quiet, normal life until she's suddenly targeted by a million-dollar Reapr campaign. Hunted by all of Los Angeles, Charlie hires Vita, the lowest-rated bodyguard on the Dfend app. As the campaign picks up speed, they'll have to figure out who wants Charlie dead before the campaign's 30 days—or their lives—are over.
CROWDED #1 Cover A by Stein & Brandt and CROWDED #1 Cover B by Stott hit stores on Wednesday, August 15th. The final order cutoff deadline for comics retailers is Monday, July 23rd.
In this episode AJ is joined by a very special guest to help him continue on his quest to episode #200.
Listen as they review Ocean's 8, E3, and the Incredibles 2.
All of this plus the news!!
Episode #197
[ 51:07 ]
Play Now
|
Play in Popup
|
Download
Phil Lord and Christopher Miller, the creative minds behind The Lego Movie and 21 Jump Street, bring their unique talents to a fresh vision of a different Spider-Man Universe, with a groundbreaking visual style that's the first of its kind. Spider-Man™: Into the Spider-Verse introduces Brooklyn teen Miles Morales, and the limitless possibilities of the Spider-Verse, where more than one can wear the mask.
The new story is packed with Buffy-esque action and Jessica Jones-like character drama
Writer Caitlin Kittredge (THROWAWAYS, Coffin Hill) and artist Roberta Ingranata put a contemporary spin on the classic WITCHBLADE—first co-created by Image Comics co-founder and partner, Marc Silvestri, with Brian Haberlin, Michael Turner, and David Wohl—WITCHBLADE, VOL. 1 trade paperback will collect issues #1-6. It will hit stores this July.
Gunned down and left for dead on a New York rooftop, Alex Underwood's life should have ended there—but instead, at the moment of death, she became host to The Witchblade, a mystical artifact that grants the woman wielding it extraordinary powers. But those powers come with a heavy cost, and Alex soon finds herself thrust into the center of an unseen battle raging on the snowy streets of NYC.
WITCHBLADE, VOL. 1 will hit comic book stores on Wednesday, July 11th and bookstores on Tuesday, July 17th. It can be pre-ordered on Amazon, Barnes & Noble, Books-a-Million, IndieBound, and Indigo.